• Intuitie • Magisch Borduren • Spirituele Reis • Zelfontwikkeling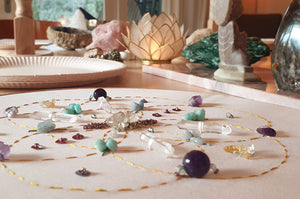 Wat heeft borduren eigenlijk met spiritualiteit te maken? Helemaal niks toch? Die vraag krijg ik wel vaker van mensen want het lijken wel twee verschillende werelden. Niet voor mij maar ik begrijp waar de verwarring vandaan komt want bij borduren kunnen mensen zich wel een voorstelling maken wat je aan het doen bent. Lekker met je handen bezig zijn om iets te creëren met naald en draad. Dat is duidelijk en concreet. Hoewel spiritualiteit steeds meer mainstream is geworden, blijkt het nog een ongrijpbaar concept waarom ik dit wilde combineren met borduren. 'Ga je dan in yoga houding borduren ofzo?'...
---
• Danielle Balfoort • Eindejaarsblog • Intuitie • Spirituele Reis • Zelfontwikkeling
Out with the old..Welkom 2021! Er is al zoveel gezegd over afgelopen jaar en ik vraag mij af wat ik er nou nog aan toe zou kunnen voegen. Net als jullie misschien moest ik me aanpassen, wennen en mezelf heruitvinden en dat meerdere keren. Zonder te ontkennen dat 2020 een moeilijk jaar is geweest, heb ik toch wel wat 'silver linings' die ik met je wil delen. Nu heb ik zo rond de feestdagen altijd een weemoedig gevoel dat de tijd weer is gevlogen en dat kerst vroeger altijd veel langer leek te duren en feestelijker was. Tegelijkertijd is er...
---
• Christian Sardet • Danielle Balfoort • embroidery • Environment • Plankton • Plastic
My plastic embroidery project Have you ever wondered how handmade embroidery is created? If so, you are in for a treat! I thought it would be fun to share more about the process and all the behind the scenes magic from now on. Every creative process has its own challenges/mistakes or "happy accidents" as painter Bob Ross used to call them 😊 I will include them as well to keep things realistic. Process Some creatives grab their needle and thread and just begin embroidering. Others rather sketch their designs first and want to figure out which materials and colors they...
---
• blog • Couching • embroidery • Goldworkembroidery • Opus Anglicanum • Or Nue
Let's talk Gold…Goldwork embroidery: a rich history part I Finally, this blog will cover one of my most favorite embroidery techniques on the planet, Goldwork embroidery! With so many embroidery techniques around, this always seems to attract the most people. When I share a small goldwork sample on social media, the positive responds and likes are tremendous. Is it the lustrous shine? Could it be the tiny cutwork? Or is it the variety of textures you can add with metal threads? It is fascinating to see what happens if you incorporate metal threads into a design. To see the effects...
---
• blog • Danielle Balfoort • Fried Freres • Interior • Maison et Objet • Paris • Ver au soie • Yarns
What I did in Paris part II Remember my previous blog about Paris? There was so much content that I decided to write another blog (yessss) and share our visit to Maison et Objet and give you interesting addresses for embroidery materials… First time Maison et Objet tradeshow One of the major events on interior and design and on my list to go too. Main reason for us to visit was to meet designers and companies and to see if this is a good place to show my work in future. Small mistake we made that we thought the event...