• Christian Sardet • Danielle Balfoort • embroidery • Environment • Plankton • Plastic
My plastic embroidery project Have you ever wondered how handmade embroidery is created? If so, you are in for a treat! I thought it would be fun to share more about the process and all the behind the scenes magic from now on. Every creative process has its own challenges/mistakes or "happy accidents" as painter Bob Ross used to call them 😊 I will include them as well to keep things realistic. Process Some creatives grab their needle and thread and just begin embroidering. Others rather sketch their designs first and want to figure out which materials and colors they...
---
• blog • Couching • embroidery • Goldworkembroidery • Opus Anglicanum • Or Nue
Let's talk Gold…Goldwork embroidery: a rich history part I Finally, this blog will cover one of my most favorite embroidery techniques on the planet, Goldwork embroidery! With so many embroidery techniques around, this always seems to attract the most people. When I share a small goldwork sample on social media, the positive responds and likes are tremendous. Is it the lustrous shine? Could it be the tiny cutwork? Or is it the variety of textures you can add with metal threads? It is fascinating to see what happens if you incorporate metal threads into a design. To see the effects...
---
• blog • boost your creativity • Danielle Balfoort • embroidery • re-use • story • tips
Re-using embroidery 'waste' in a creative way (9 tips!) My thoughts on how to re-use my embroidery waste and changing my creative process Where products are made there is waste…that is the brutal reality and makes me realize that I need to be more responsible and critical when it comes to my own creation process... I try to be conscious by reducing my waste at home, separating my carbage, don't buy fast fashion but mostly secondhand and/or fair niche brands. I am slowly changing my beauty routine into using nature-based products from niche brands. Every step forward sometimes means 3...
---
• Danielle Balfoort • Ecole Lesage • embroidery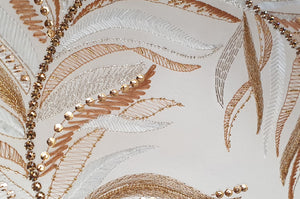 What I did in Paris part I The city of love, Eiffel Tower, fashion week, macarons, je ne sais quoi and so much more: Mais oui Paris! I love this place since I can remember and a couple weeks ago, I spent a full week there… Previous visits were for sightseeing purposes only and although this city is great for strolling around in a holiday mood, last time was different. I tell you why; The main reason for my visit was starting my first module at Ecole Lesage. For everybody that doesn't know Lesage, it's like a holy institute for...
---
• Danielle Balfoort • embroidery • story • transformation series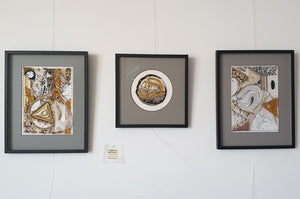 Why my latest work is called 'Transformation' Welcome again to my third blog already :) Today I want to tell you more about the process and story behind my most recent work. Three hand embroidered wall-art pieces which I call the 'Transformation series' Before I dive into the why and how on this embroidery, I just want to explain a bit about my way of working and how a design comes to life from scratch. I love to draw...however I don't consider myself as a very skilled person when drawing any embroidery design with pencils, paint or markers. Instead I...