• boost your creativity • Creativiteit • Moodboard • tips
Deel 1 Verzamelen en filterenHet begint vaak bij inspiratie en verzamelen van die inspiratie. Iedereen doet het natuurlijk op zijn eigen manier maar ik ben van de mood boards.  Ik heb een behoorlijke verzameling magazines waar ik uit kan putten en het begint heel eenvoudig met plaatjes verzamelen. Online kun je natuurlijk ook enorm veel vinden (bijvoorbeeld Pinterest) alleen kan dat zorgen voor veel te lange scroll sessies met een overload aan keuze. Ben je superhandig met een tablet en illustrator dan is digitaal absoluut een mooie keuze. Ik houd van papier en mijn brein werkt beter als ik beeld voor...
---
• blog • Edelstenen • Intuitie • Magisch Borduren • tips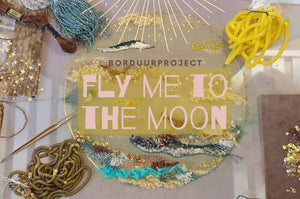 Ik heb wat met de maan en sterren en alles wat er in onze galaxy aanwezig is. Waarschijnlijk komt dat omdat mijn sterrenbeeld Kreeft is en dat teken is verbonden met de energie van de maan. Maar ook het mysterie wat er omheen hangt en dat je soms ineens overvallen wordt door de schoonheid van een heldere hemel met flonkerende sterren! De laatste maanden heb ik ook heel veel gelezen over wat de cyclus van nieuwe maan en de volle maan voor invloed heeft op ons mensen (meer dan je zou denken) Ooh zou hier zoveel over willen schrijven (er...
---
• Heilige Geometrie • Intuitie • Magisch Borduren • Spirituele Reis • tips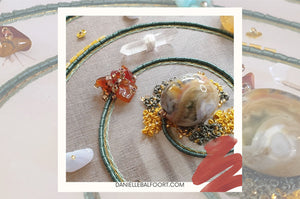 Super interessant al die heilige geometrische vormen, maar wat betekenen ze eigenlijk? Kun je er ook iets mee? In deze serie van blogs vertel ik meer.Allereerst in het kort wat heilige geometrie is:Al eeuwen geleden ontdekte oude beschavingen dat de wereld waarin wij leven alsmede ook wij zelf gebaseerd zijn op onderliggende geometrie. Deze symmetrische vormen komen niet toevallig voor. Deze oeroude vormen werden gezien als sleutel van het mysterie van de schepping. In plaats van woorden is het een taal van symbolen die met geometrische beelden werkt. De filosoof Plato was de eerste die op schrift het bestaan van...
---
• blog • boost your creativity • Danielle Balfoort • embroidery • re-use • story • tips
Re-using embroidery 'waste' in a creative way (9 tips!) My thoughts on how to re-use my embroidery waste and changing my creative process Where products are made there is waste…that is the brutal reality and makes me realize that I need to be more responsible and critical when it comes to my own creation process... I try to be conscious by reducing my waste at home, separating my carbage, don't buy fast fashion but mostly secondhand and/or fair niche brands. I am slowly changing my beauty routine into using nature-based products from niche brands. Every step forward sometimes means 3...